Apr
28
Tue
Lovely Music Night

@ The Fiery Bird Live Music Venue
Apr 28 @ 7:30 pm – 11:00 pm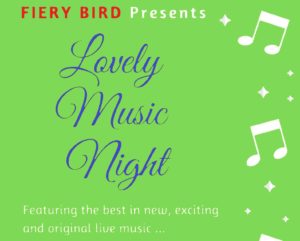 A night of excellent acoustic live music from the best emerging artists on the scene!
This month we are delighted to be joined, on the main stage, by …
As always the greatest music in your local welcoming venue, four bands for only £5 OTD!
Fiery Bird is run by community members & musicians volunteering to provide a platform for new music and a community space to give opportunities to people in arts, training and skills. All proceeds go toward keeping the project going to help more people.
8.00 – 11.00 pm
Doors 7.30 pm
May
2
Sat
Mel Gaynor's Risk + Through Infinity

@ The Fiery Bird Live Music Venue
May 2 @ 8:00 pm – 11:00 pm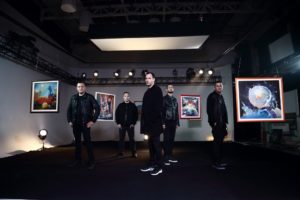 Simple Minds legendary drummer Mel Gaynor introduces his new band Risk with their stirring first single 'Run'. Mel handles lead vocal dues for the band, setting the tone with his emotive vocals and flamboyant drumming style along with blues guitarist James Ford and bassist Sarit Black adding even more musical muscle.
Risk say ''The song is dedicated to all the people who are running to achieve their goals in life. With our new single 'Run', we are trying to bring hope and motivation to our fans. It is a long way to success but never give up''. 'Run' is the first offering from the long-awaited album titled 'Come With Me', written and produced by Mel himself.
Risk are currently putting the finishing touches on their new album due for release later this year and are set to embark on an extensive headline tour across the UK. Playing a mixture of songs from their new album along with some mysterious classics for Simple Minds fans.
SUPPORT – THROUGH INFINITY
Croatian guitarist and songwriter Josip Pesut hits the extensive UK tour with his rock band Through Infinity to promote a new, third studio album The Afterlife. It is indeed one of a kind situation that a musician has such a strong passion to perform that he alone books the tour and then seeks for ways to reach the audience. Yet, at the same time, this story involves much of soul searching and decision making every artist has to go through to stay true to their personality and art.
Influenced by an array of names is many different genres, but emphasising Nobuo Uematsu, Joe Satriani, Peter Gabriel, Bon Jovi, Guns 'N' Roses and Toto, Through Infinity are on the cusp of breaking the UK market with their intrigue. Their extravagant UK tour will surely cement them into the minds of all sorts of rock fans, both here and abroad.
20.00 – 23.00
Doors 7.30pm
Tickets
Standard price – £10. Group discounts available!
May
8
Fri
An Evening With Alan McGee

@ The Fiery Bird Live Music Venue
May 8 @ 7:30 pm – 10:30 pm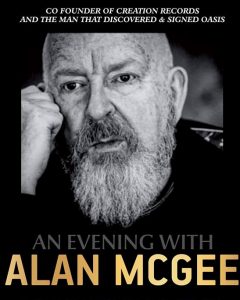 An Evening With Alan McGee
Fiery Bird are absolutely delighted to host an evening with Alan McGee.
Alan will be joining us in a Q&A talking about his life in music, his own bands, the founding of the Creation Record Label that saw bands like Oasis to the heady heights of the Brit pop era, and the film about his life due to be released in early 2020.
Get tickets now for this not to be missed event!
Joined by band Penny Eyes continuing the drive to see new music soar.