Aug
7
Sun
Monthly Showcase August

@ The Junction Coffee Shop
Aug 7 @ 13:00 – 16:00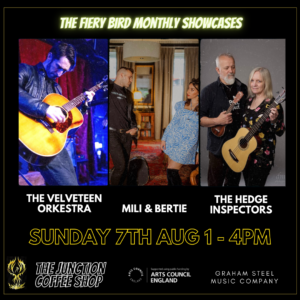 Our monthly Sunday afternoon Fiery Bird Showcase continues at The Junction Coffee Shop, Woking on Sunday 7th August 1pm – 4pm, with live music from The Velveteen Orkestra, Mili & Bertie and The Hedge Inspectors.
---
The Velveteen Orkestra purveyors of quality alternative folk noir rock and roll.
---
Alternative pop duo Mili & Bertie are influenced by the likes of Crowded House and Starsailor, the pair bring an authentic and contemporary sound that is somewhat reminiscent of an older era of mainstream pop.
---
The Hedge Inspectors describe themselves as Acoustic noise makers, Jam starters, Fun Raisers, collecting money for the MS Society UK
👇 For more information and to have a listen click below 👇
The Velveteen Orkestra – https://www.facebook.com/thevelveteenorkestra
Mili & Bertie – https://www.miliandbertie.com/
The Hedge Inspectors – http://www.unplugthewood.com/thehedgeinspectors
Sep
28
Wed
Thomas Gabriel

@ The Fiery Bird Live Music Venue
Sep 28 @ 20:00 – 23:00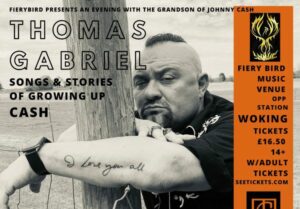 We are excited to be welcoming
Thomas Gabriel
to the Fiery Bird on 5th October. The singer songwriter will be sharing songs and stories of growing up with his grandfather Johnny Cash. Gabriel's voice, a dead ringer for the Man in Black, will be mixing his set of haunting and heart-felt original songs with tunes made famous by his granddad.