Aug
7
Sun
Monthly Showcase August

@ The Junction Coffee Shop
Aug 7 @ 13:00 – 16:00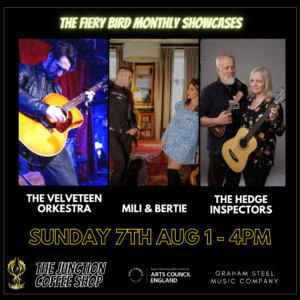 Our monthly Sunday afternoon Fiery Bird Showcase continues at The Junction Coffee Shop, Woking on Sunday 7th August 1pm – 4pm, with live music from The Velveteen Orkestra, Mili & Bertie and The Hedge Inspectors.
---
The Velveteen Orkestra purveyors of quality alternative folk noir rock and roll.
---
Alternative pop duo Mili & Bertie are influenced by the likes of Crowded House and Starsailor, the pair bring an authentic and contemporary sound that is somewhat reminiscent of an older era of mainstream pop.
---
The Hedge Inspectors describe themselves as Acoustic noise makers, Jam starters, Fun Raisers, collecting money for the MS Society UK
👇 For more information and to have a listen click below 👇
The Velveteen Orkestra – https://www.facebook.com/thevelveteenorkestra
Mili & Bertie – https://www.miliandbertie.com/
The Hedge Inspectors – http://www.unplugthewood.com/thehedgeinspectors